We offer multiple payment methods, including PayPal, Visa, MasterCard, American Express, Diners Club, and Discover credit cards. If you choose to pay with PayPal, you will be taken to the PayPal payment page where you can log in with your username and password to complete the transaction. Even if you don't have a PayPal account, you can still check out by clicking "Pay with Debit/Credit Card" and entering your card information on our secure page or completing the payment through PayPal. Please note that we do not collect your credit/debit card information or personal details for payment purposes. If you have any questions about your transactions, please contact your card-issuing bank for assistance.
Pay for order with Paypal
Step 1
Add to Cart & Fill in your Basic Information and Coupon Code.
(If you have a PayPal Account, just click "PayPal" Button to Pay)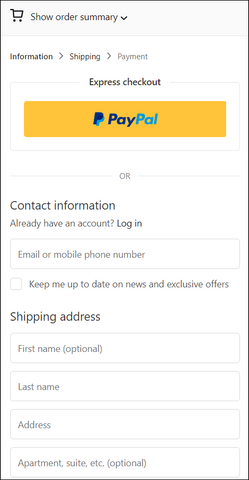 Step 2
Choose the Shipping Method
Step 3
Choose your Billing Address and Click "Complete order" Button.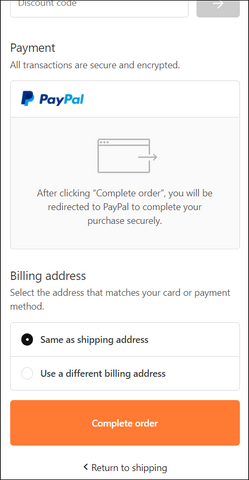 Step 4
Find the PayPal's Pop-up.
(If you have a PayPal Account, you can Log In and Pay directly.)
If not, you can click "Pay with Debit or Credit Card" Button to Pay with your Cards.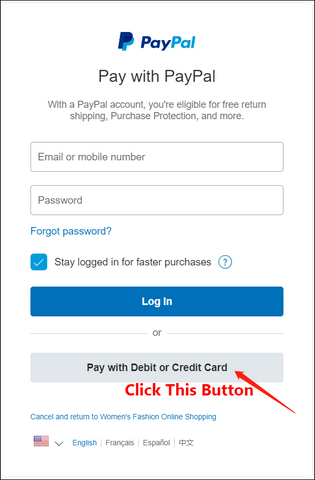 Step 5
Pay with your Debit or Credit Card (Fill in the related information as well)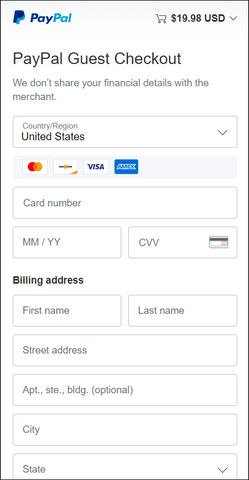 1.What currencies can I pay?

We are only able to accept USD Dollars at the moment, we can accept more currency in the future.

2.Is my privacy and personal information secure on your site?

We provide among the best e-commerce service in the industry, and guarantee secure payment processing at all times. Please check our Privacy Policy to view the full details on how we protect your privacy and personal information.


3.My payment was declined when using with credit\debit card, what should I do?
(1) If your payment has been declined, you will need to make a new order because we cannot reinstate a declined order.
(2) To avoid your new order being declined, we recommend doing the following checks: ensure your card details are correct, including expiration date and three-digit security code on the back; contact your bank or card issuer if they declined the payment as they do not inform us of the reason; and if all else fails, try using a different card or payment method.
(3) If your payment was declined due to 3D secure security measures, you should contact your bank. However, if you received an error message, please provide us with the details and we will do our best to resolve the issue promptly.
Tel : +86 183 3656 6818
E-Mail : service@rekine.com
Company:Xiantao Qili Electronic Commerce Co., Ltd.
Company Address : No.649, Group 4, Huangjing Village, Longhuashan Office, Xiantao City, Hubei Province,China
Working Time : Mon - Fri 09:00-18:00(UTC+8)
On the business day, we will back to you within 24 hours